Christmas With The Chosen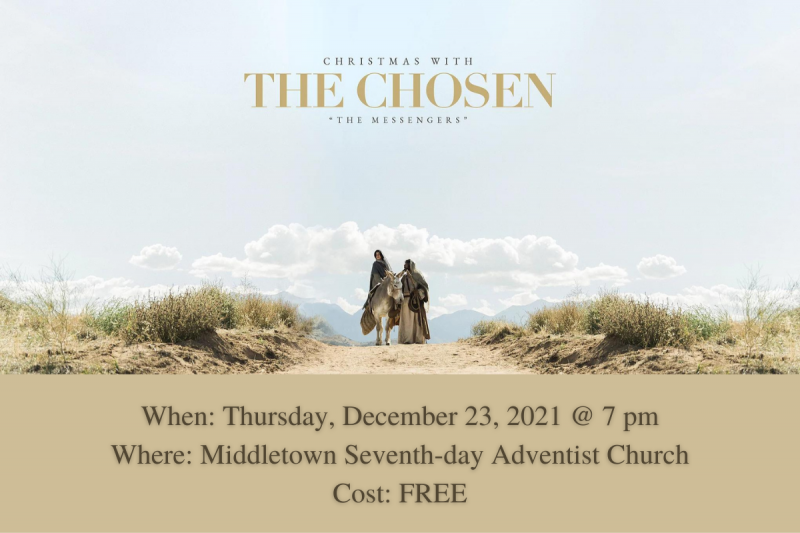 We are excited to announce that the Middletown SDA Church will be hosting a special FREE viewing of "Christmas With The Chosen: The Messengers".
When: Thursday, December 23, 2021 @ 7PM
Where: Middletown SDA Church
Cost: FREE
 
 
To launch the Christmas season this December, The Chosen has created a special episode about the birth of Christ through the eyes of Mary and Joseph. You'll also see an extraordinary lineup of musicians perform both new and classic Christmas songs from the set of The Chosen, including: Phil Wickham, For King & Country, Brandon Lake, Maverick City Music, Cain, Matt Maher, Bryan & Katie Torwalt, Jordan Feliz, We The Kingdom, The Bonner Family, Leanna Crawford, Dawson Hollow, and One Voice Children's Choir. This is the perfect opportunity to bring friends and family, including those who haven't seen The Chosen, for a unique Christmas experience.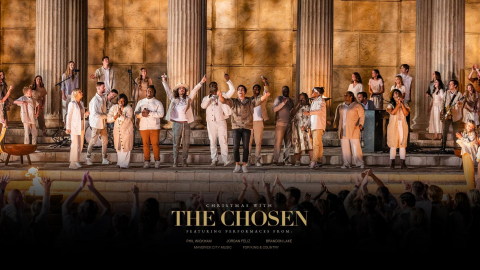 What people are saying about Christmas With The Chosen: The Messengers
"The music and production in CHRISTMAS WITH THE CHOSEN are masterfully woven together to create a cohesive narrative that surely will stir many hearts this holiday season." - Movieguide
 
"Saw it last night. Wonderful music. Inspiring presentation of the birth of Jesus. I loved every minute of it." - Eleanor S
​
"With a $740,000 Tuesday gross, +2% from Monday, Fathom Events' slightly surprising holiday season overperformer Christmas With the Chosen: The Messengers crossed the $10 million mark in its first week." - Forbes
​
"It's one of the of the most special things I've gotten to watch on a big screen." - Danielle T
 
The burgeoning flock following "The Chosen," the first multi-season story of Jesus' life, showed its eagerness to witness this unvarnished truth and message (with Hollywood-style production values), setting a Fathom Events records in the process: The release has passed 1 million ticket sales and $13.5 million at the box office since opening Dec. 1. - USA TODAY
 
"The monologues were incredible and the episode wonderful! There were a couple of really fun surprises. It is a MUST see!" - Kelly D
 
"Distributor Fathom Events, known for one- or two- day releases of classic movies, live opera and other specialty fare, expanded the "Chosen" event to 10 days. Ticket sales are approaching $6 million so far, putting "Christmas with 'The Chosen'" on track to be Fathom's bestseller ever, according to chief executive Ray Nutt." - The Wall Street Journal